DVD for MI Trainers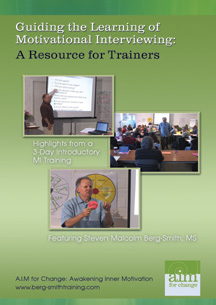 Guiding the Learning of Motivational Interviewing: A Resource for Trainers
This 4-set DVD captures the highlights of an introductory 3-day MI training facilitated by Steven Malcolm Berg-Smith in December 2008. The DVD is intended to be used as a resource for MI trainers to closely observe a training in action, and in the process, gather new ideas for guiding the learning of MI in a group format. This might include ideas for:
Creating an interactive learning environment
Setting up and managing learning activities
Demonstrating MI in the moment
Responding to participant questions and comments
Modeling the spirit and style of MI throughout the entire training process
Cost: $110.00 (includes shipping)
Purchase online using secure Paypal online credit card processing
Please call or email to arrange payment by mail
or electronic transfer.
DVD typically ships with 5 business days.